Adult Day Healthcare In Atlanta, GA
Summerset Assisted Living Adult Day Care Program
At Summerset Assisted Living Center of Atlanta, Georgia, we've always been committed to helping you and your loved one personalize your assisted living experience to get just what you need. If you or your loved one currently isn't in need of full-time assisted living services, we offer an adult day care center for non-permanent residents during the day.
What is Adult Day Healthcare?
Adult Day Healthcare or formal referred to and Adult Day Care, is simply a care service we offer for seniors during the day. It is a specially designed program for those who seek companionship and daily assistance without the need for the accommodations of a full assisted living program. Compared to home care, adult day services ensure your loved one has social interaction and access to health services. Whether you're looking for respite care or a way for your loved one to stay physically and socially active in their retirement, our adult day centers is an excellent option! At Summerset Assisted Living, we provide those involved in our adult day care programs with the same comfort and family-style care that all of our residents experience. We support the social, health & nutritional needs of our day care participant. The program is provided by well trained caregivers!
When to Consider Adult Day Care
Should you need this service, please give us a call. The National Adult Day Services Association (NADSA) recommends considering adult day care more seriously when an older adult: 
Cannot structure their own daily activities
Finds it difficult to initiate and focus on an activity
Is isolated and desires a community and social activity during the day
Is not safe to be left alone for extended periods of time
Lives with someone who is unable to give them the level of care they need because of work, school, or other obligations
Needs help with most personal care activities
Has been diagnosed with Alzheimer's disease or has other significant cognitive impairments
Requires a level of care that leads to your own anxiety or compromised mental, emotional, or physical health
At Summerset's Adult Day Healthcare program, there's never a dull moment. A day in the life features exciting activities, access to amenities, delicious and nutritious meals, transportation services, and more! The adult day care services we provide are carefully designed to offer activities and entertainment suited to the personal interests and desires. Our staff members enjoy meeting the personal needs of each resident and guest—including any medical care your loved one needs during the day. We always have a nurse on staff and can provide medical care and medication monitoring as needed.
Our daytime guests can enjoy Summerset's Assisted Living services, including:
Salon Services
Chapel Services
Limited Transportation
Medication Monitoring
Two Delicious and Nutritious Meals a Day (special diets accommodated)
Helping Hands and Smiling Activities
Many residents' favorite entertainment requests are also honored. Summerset enjoys including non-resident guests in our Assisted Living Community activities.
Our adult daycare program guests can also enjoy our weekly Sunshine Club activities, which include:
information on scheduled outings
lectures
arts and crafts
song and dance programs
music and games
visits from celebrities
visits from church ministers and children
Adult Day Healthcare Activities
The Atlanta Adult Day Healthcare Program is available from 8:00 a.m. until 6:00 p.m., seven days a week.
How are Adult Day Care Centers Beneficial for Both Seniors and Caregivers?
At Summerset, we find there are many reasons our seniors and their families choose to participate in adult day programs. Not only do adult day care centers allow your loved one to enjoy new activities while living at home, but they also give you the option to achieve a healthy life balance as a primary caregiver. Adult day care is the perfect solution for family members and primary caregivers who need time during the day to work or run errands, but have the capacity to or would prefer to care for their loved ones in the evenings and nights.
Some of the benefits of adult day Healthcare include:
Delay a Move to Residential Senior Care
We find that many of our families wrestle with the decision to move their loved one into assisted living. It's a tough decision for all parties involved, and many would prefer their loved one enjoys their independence and lives at home for as long as possible. Adult day care is the best alternative for those looking for a smoother transition into senior care. It gives seniors the opportunity to stay active, enjoy a social life, and receive needed assistance during the day for families who need extra help but aren't ready to make the bigger change.
Provide Rest for Family Caregivers
We understand that caregiving can present unique challenges when it comes to having a full time job and other life responsibilities. It might be difficult to provide the level of assistance that your aging loved one requires. This can create stress, guilt, and exhaustion, which may lead to a negative experience for both you and your loved one. Adult day care provides you with healthy space and the opportunity to regain balance in your personal life. You'll also enjoy the peace of mind that your loved one is being cared for by skilled and caring staff in an environment that values dignity, safety, and fun!
While you're enjoying the benefits of added daytime assistance, your loved one will be enjoying a wide variety of activities, and social services, and access to professional medical services. The adult day care program at Summerset Assisted Living is a lively program, where our seniors can enjoy the comfort of a safe, familiar place while receiving assistance and entertainment. Seniors in our adult day care program have the opportunity to enjoy new or long-time hobbies, explore the city with scheduled outings, participate in weekly activities including exercise or crafts, and so much more.
Other Benefits of Adult Day Care
Benefits for Seniors:
Safe and secure environment
Medical assistance available
Enhanced levels of independence and autonomy
Physical exercise and educational activities available
Benefits for caregivers:
Reduces stress and risk of burnout
Allows time to continue work, school, or other activities
Provides peace of mind knowing your loved one is being well-cared for in a safe environment
Spend the Day at Summerset!
If you or someone you know in the Atlanta area, might need a little "pepper-upper", we encourage you to come and spend a day with us at Summerset! Contact us today to learn more about our adult dare healthcare program and other services, and schedule a tour of our facility!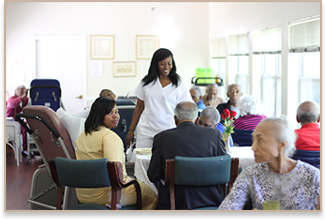 Two levels of service, providing lifestyle independence and activities for our residents while focusing on daily routine care.
Two levels of service, providing assistance and attentive care for our residents who suffer from memory impairments, such as Alzheimer's.
A special program designed for those who need assistance and recovery for a shorter amount of time.