Respite Care – Short Term Senior Care You Can Trust
The Summerset Respite Care program offers the same quality family style care provided throughout our Assisted Living Program. Our well-trained caregivers are passionate about their work and will assist the resident in a personalized stay focused on them being comfortable, happy, healthy, plus enjoying wonderful activities designed to meet their needs and challenges.
Respite care is short-term care for seniors who need extra attention while recuperating from a hospital stay or an opportunity for caregivers to get that well deserved rest and time to take care of themselves. At Summerset, our Respite Care program does not have a minimum stay requirement nor the the program have a maximum stay limit.  We are here to meet your needs and Summerset can be your short-term solution.
Short-Term Care has Benefits for Seniors and Caregivers
Caring for an aging loved one can be a challenge for many reasons. It requires constant attention and time which the primary responsible party many not be able to provide all of the times. Not everyone has a large extended family who can split care amongst each family member. That means the care of the elderly adult could fall to one or two family members and eventually only one. It may not be feasible for that family member to provide the daily care and support their loved one needs without taking a break. That temporary break or help is simply a great option, especially if that elderly person has been hurt and their needs are challenging. It cannot be punctuated enough that taking a short break will give the caregiver a healthy and well-balanced lifestyle as well. Affording yourself this opportunity reduces your chance of caregiver burnout. Spending time with old friends and family, traveling, or whatever else one wants to do can be rewarding especially when it is known that the loved one is in a safe, caring, healthy, loving and enjoyable environment. Our respite staff members take excellent care of the seniors. The nursing staff ensures that the care plan is designed and implemented during the respite stay. We expose our elders to a loving environment that feels just like a family environment while sometimes simply conversing and reminiscing. Sometimes introducing new activities and hobbies can be just what the doctor ordered and could bring them so much joy. Our Respite Care program might also be the answer for a family member who needs a short break to recharge or have an opportunity to address delayed home projects or even go on that long-awaited vacation or just a vacation from their day to day responsibilities.
Summerset Respite Care Features:
Twenty-four hour access to professional caregivers to meet special personal needs while recuperating
A pampered three to thirty day stay in our respite care facility where seniors can receive the best possible care
A convenient "home away from home" during the regular caregivers' absence
An affordable alternative to full home health care services or home respite care
A convenient transportation service is available, as needed, for physician's visits
Summerset Respite Care suites are fully furnished, comfortably decorated and come with all toiletry supplies. Summerset provides three nutritious meals daily and special diets may be accommodated.
In addition, medications are supervised by our Resident Care Directors. And, as with all Summerset residents, you will have the comfort of knowing that a state-of-the-art Emergency Alert Voice Communication System is active for respite care twenty-four hours a day, seven days a week.
For the 
Respite Care
 guests who want to liven up their day, all activities included in the
Sunshine Club's Activity Program
 and the basic services and amenities program associated with Summerset Assisted Living Community are available.
These activities may include:
Arts and crafts; lectures
Song and dance programs; music and games
Visits from church ministers and children; outings
Other forms of entertainment that our residents and guests request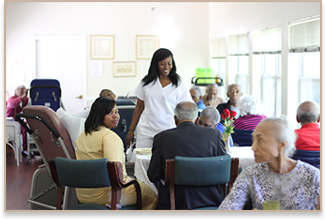 Two levels of service, providing lifestyle independence and activities for our residents while focusing on daily routine care.
Two levels of service, providing assistance and attentive care for our residents who suffer from memory impairments, such as Alzheimer's.
Friendship, fun activities and entertainment tailored to the interests of our residents and guests.