Memory Care Program
In our Memory Care Program, we offer special care for those persons living with memory loss, whether it is Alzheimer's or any other form of Dementia.
Each resident has a care plan that addresses their unique needs. By doing this, they can enjoy each day with meaningful activities in such a pleasant and safe environment.
We don't separate our residents from one another, rather we provide extra support for the residents who need it. Dementia patients could require additional services, such as wander management, and we provide special staff training.
.
Memory Care Activities
All of the activities provided at Summerset are focused on providing appropriate amount of stimulation and exercise, allowing residents to enjoy their daytime and nighttime hours. With the daily activities provided by our memory lane program, our residents are encouraged to maintain interests and relationships, remember fond moments ,and continue to express themselves. 
Entering an assisted living facility does not mean that residents can't enjoy their lives. Many residents feel like this environment allows them to enjoy all the activities they never had time for before. They can enjoy reading, crafting, hobbies, music, dance, and so much more. We want our residents to love life at Summerset, and we are always adding new programs and activities to our offerings to better serve residents. 
The stimulating activities can help people with memory impairments feel engages, stimulate memories, make emotional connections, call anxiety, and lessen irritability. Our senior care staff can 
assist those with memory challenges. We help them enjoy their lives by offering the delightful pursuits and we make sure they are in the safe environment needed to have a great quality of life.
Some of the activities our residents enjoy include the following: 
Visits from special guests
Music and games
Dance programs
Memory Lane
Several behaviors are common in those with memory impairments, including non-conformance, wandering, and resistive behavior. Every resident will experience these and many behaviors tend to progress with time. These three behaviors are also considered when determining when determining the level of memory care. 
Special Care Program Level 1:
Our Alzheimer's care facility offers quality care and assistance to residents who may be in the beginning stages of memory loss and who need assistance with up to two ADL's. There may be a moderate degree of repetition, disorientation, and forgetfulness. Often, all it takes to comfort someone in this state is to have their days planned with appropriate and meaningful activities. The Sunshine Club, our structured entertainment and activities program, does a great job with doing just that. Daily life should be meaningful, and filling our residents' days with worthwhile pursuits can make a big difference to their behavior and overall happiness.
Extra Special Care Program Level 2:
The second level of our memory care program simply provides additional assistance and attention to those with an increased stage of memory loss. Many of those in level 2 of our memory care program require assistance for 3-4 ADL's. This level of care focuses more specifically on enhancing the quality of life for residents with more developed cases of dementia. With the right long term care staff, those with later stages of dementia can still enjoy their lives and be safe while doing so.
Compassionate Alzheimer's Care and Dementia Care
Not all older adults will need memory care services, but it's important for you to know that Summerset is here when someone needs memory care help. We know the value of compassionate care in assisted living communities, regardless of memory impairment. However, we understand compassion is of particular concern with the families of Alzheimer's care and dementia care residents. We strive to create an environment that encourages the dignity of all of our seniors, as we emphasize patience and understanding. That's what elevates the senior living community at Summerset to one of Atlanta's most trusted Alzheimer's care and dementia care facilities.
Our Staff and Assisted Living Community
A resident of Summerset's Memory Lane program may benefit from the sensitivity and training of our staff. Our assisted living community is equipped to be the best environment for your loved one throughout the day, and our caretakers tend to each resident's special needs for Alzheimer's care, dementia care, or other memory-related impairments. Depending on the level of care a resident needs, Summerset will tailor a Special Care Plan that incorporates the resident's needs and desires to provide for the most pleasant day possible. Whether it's games, gardening, crafting, or just sharing a comforting smile, Summerset provides your loved ones with an engaging, loving, and safe place to live. We are comfort keepers, and we want to ensure your loved one is happy and loving life as a member of our community.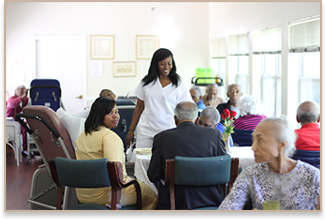 Two levels of service, providing lifestyle independence and activities for our residents while focusing on daily routine care.
A special program designed for those who need assistance and recovery for a shorter amount of time.
Friendship, fun activities and entertainment tailored to the interests of our residents and guests.